EVERYONE
has his or her favourite 'news' sources. One of mine is 'Russia Today'. It comes across as legit but we all know of course that it's Russian propaganda. No?
But prop or not, them dam' Russkies think along the same lines as I
Trump pursues "no own policies" but only executes the decisions made by the "intelligence agencies, the Pentagon, the big arms manufacturers, oil companies, and financial institutions," the Syrian leader said in an exclusive interview with TeleSUR.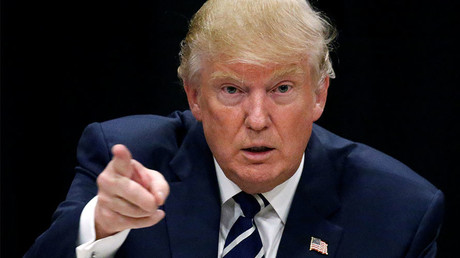 America's trump card …
"As we have seen in the past few weeks, he changed his rhetoric completely and subjected himself to the terms of the deep American state, or the deep American regime," Assad added.
He referred to the fact that Trump came to power on a political platform promising a departure from the interventionist policy of the previous US president, Barack Obama, but soon forgot his promises …
To read from source (RT): CLICK HERE 
I think the dam' Russkies are almost as dismayed by the POTUS's performance as I would have been had I not disbelieved the wee scamp right from before the start—their dismay shows that they have a good heart but are a wee bit gullible. More the fool them, then.
ARGUS'S 1ST RULE
of electioneering:
promise them anything
and everything.
Yep, that's it. (And when The Establishment pulls the rug out from under, just keep smiling*).
KISMET
*  More so if ever challenged …